Published: 2017.11.22 11:08
Hungarian Transport Federation was founded in 1998 as a non-governmental organisation. In the beginning it operated under the name of National Professional Federation on Local Public Transport Providers, in 2006 its name changed for Hungarian Public Transport Federation and in 2011 December for Hungarian Traffic Federation.

President of the Federation: Dr. Gyula Várszegi.

The aim of the Federation is to bring together the organisations that deal with the local public transport, companies that also provide services linked to public transport in Hungary. As far as the participants of the local public transport profession are concerned, it represents the agreed common interests and aims during legislation preparations.

The number of members is continuously increasing, the Federation has currently 13 members.

Logo of the Federation: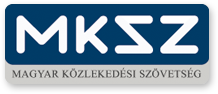 Activities of the Hungarian Transport Federation:
provides professional representation
adopts positions on national and local governmental decisions and regulatory plans regarding economic issues of local public transportation
monitors the practical enforcement of laws and regulations and initiates review or amendments of professional measurements if necessary
works out and maintains professional and ethic norms of local public transport sector
cooperates with local governmental, social and business organisations and interest-groups
keeps contact with ministries, committees of Parliament, municipalities, professional and non-governmental organisations
contributes to the improvement of the sector through collecting professional information, organising professional events, sending and welcoming delegations
organises professional and economic vocational training for the member companies' employees
promotes the introduction and dissemination of advanced technologies, solutions and procedures primarily through its members